Image Scanning and Photography


Whatever size or format your original artwork is in that you want to print from we can help you capture it in a digital form and prepare it ready for reproduction.
Film and Transparency Scanning
Using dedicated film and transparency scanners, we can scan from 35mm to large format film and transparency. Our maximum scan resolution is 4000dpi.
Image Capture - ArtScan
We have a Betterlight scan back with a large format view camera. The scanning back provides very high resolution files, being able to effectively render 380 Megapixels. This combined with a fantastic lens and fixed spectrum studio lighting ensures that artwork is captured at the highest possible quality. Our photographic equipment is colour calibrated to our edit and print workflow ensuring excellent colour and tonal range.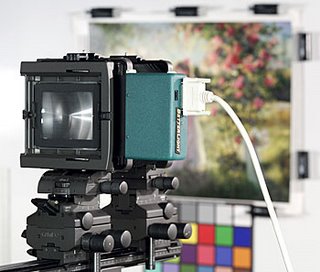 ArtScan - The Process

We digitally capture the original work with the Betterlight or scan from a transparency in
our studio.
Manual colour adjustments made to ensure the proof matches the original.
Slides are colour matched using a D50 light panel.
Proofs are viewed using a D50 Viewing Station.
A proof and the original work is returned to customer for approval.
Further colour adjustments and proofs made if requested.
We archive the final image for you to print on demand as and when you need it.

As we operate a colour managed workflow we can guarantee that each print will look the same as the previous print.
ArtScan (Betterlight) Image Capture
Image Capture

Betterlight Scan (inches, longest side)

under 32 inches
over 32 inches
With print order
Includes:
- 2 proof prints
- web quality artwork
£16.00
£32.00
Scan only
Includes:
- 2 proof prints
- print quality artwork
£45.00
£90.00
Prices exclude VAT
Negative / Transparency / Slide Scanning
| | |
| --- | --- |
| Scanning | |
| | Price |
| 35mm | £1.25 |
| Medium and Large format | £5.00 |
| | Prices exclude VAT |